Meredith Gould's writing and wit — combined with her overall brilliance — produce books that are relevant, purposeful and compelling, including the newly-updated and re-released Deliberate Acts of Kindness: A Field Guide to Service as a Spiritual Practice.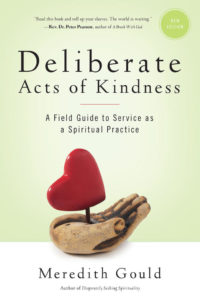 Beautiful to hold and easy* to put into action, Deliberate Acts of Kindness is a resource for such a time as this, equipping a new generation of socially-conscious-and-eager-to-change-the-world folks with discernment tools for spiritual grounding & a hearty dose of wisdom for guarding against burn-out.
For those who have already burned out once (or twice or thrice) in their commitment to serve others, Deliberate Acts of Kindness offers a knowing head tilt and a friendly raised eyebrow to encourage deeper, more honest self-examination about one's engagement in service:
"How will you know your call to service is … not merely something your ego deeply desires?"
(DAK 21)
"Got trust issues? These may need attention…"
(DAK 19)
And this reality check:
"You'll need to learn how to deal with the jerks, scoundrels, incompetents, and frauds you encounter along the way."
(DAK 74)
Personal testimony: As someone in a helping profession (hello, ministry) my copy of Deliberate Acts of Kindness is highlighted, margin-scribbled and dog-eared every time Gould prods — I mean, prompts — my self-candor and clarity. Which pretty much means that every page of DAK is marked up.
Cover to cover, Deliberate Acts of Kindness provides concrete guidance and frames important questions for engaging service as a practice of faith: starting with the whys that compel kindness (Chapter 1), attending to the Spirit of discernment (Chapter 2), scoping out opportunities and ideas for kindness-in-action (Chapter 3), emphasizing the importance of serving well (Chapter 4), and preparing for inevitable disappointments and disillusionments (Chapter 5).
In addition to Gould's own wisdom, especially useful throughout Deliberate Acts of Kindness is the wisdom she invites each reader to find on their own through contemplative writing exercises. I'm a great believer in the pen's honesty: when we don't write for perfection or worry about words, writing or journaling often has the result of putting truth on paper before our brains have the opportunity to reconsider it.
The writing exercises, assorted prayers and sayings from varied wisdom traditions, and Meredith Gould's practical expertise make Deliberate Acts of Kindness a rich resource for volunteer veterans and humanitarian hopefuls alike — not just to be read once, but to be returned to again and again.
Deliberate Acts of Kindness is a book well worth your time and practice, for the sake of a more equitable, more kind world.
Bonus tips:
When reading a book by Meredith Gould, always read the endnotes. Seriously. Always.
Consider treating Deliberate Acts of Kindness as a devotional tool, not just a practical guide. When you find a quotation or question that resonates with you, hold onto it, take your time with it, meditate over it. Your spiritual groundedness for service will benefit your works of kindness.
Don't assume that Deliberate Acts of Kindness is only a book about helping others. Chapter 4 is basically a guide for interacting with any human system/relationship (familial, professional, religious, romantic), demonstrated through the lens of service organizations. If people are driving you up a wall, whether generally or specifically, take a deep breath and read DAK. See also: adulting.
In addition to recommending Deliberate Acts of Kindness for your personal involvement in goodwill, I highly recommend DAK for those considering a profession in service. For example, my current job relates to folks who seek to become ministers, who are ministers, and (sometimes) who need to no longer be ministers. I would gladly put DAK into the hands of many a candidate & minister and require its study (along with therapy) for the work of collective discernment.
*If we call soul-searching, gifts-testing, energy-draining, pouring-life-into-love, burning-out, soul-reexamining, compassion-into-action-converting, giving-a-damn, and praying-to-God-to-save-the-world-from-itself work "easy."
P.S. Meredith, I might totally steal/borrow/use "ad majorem Dei gloriam" (to the greater glory of God) with my next book, because it's true, because it's beautiful, and because I'm not adept enough with Latin to have thought of it myself. Thank you for your commitment to a more just & generous world.